Written by Teacher Dong Baoyan from 'Seasons in the Sun Yansi Preschool', Tengchong City
"Good morning teacher", "Goodbye teacher". Since this semester, Xiao Zhu would like to come to me and say hello and goodbye at both preschool entrance and exit time almost every day. This little boy who was a bit dark and skinny lost his mother when he was a baby. His old grandparents looked after him and they sent and picked him up every day. I still remember last September when the semester just started, he cried and screamed for not wanting to come to the preschool. We thought of many methods but still could not approach him. But after a while, he changed from initial crying and screaming and not wanting to come to the preschool to becoming quiet gradually. I thought that every child had different personality and capacity of adapting to new environment. Children might be afraid of environment change. Some children needed time to be integrated into the new preschool environment, such as Xiao Zhu. I was looking forward to his changes. After a while, he did not cry and scream like before, but he did not communicate with anyone either. I found that he was very attentive when I played cartoon films. At this time, I would gently walk towards him and asked him: "Which character in the film do you like?" Although he did not answer my question, I believed that he had an answer in his heart.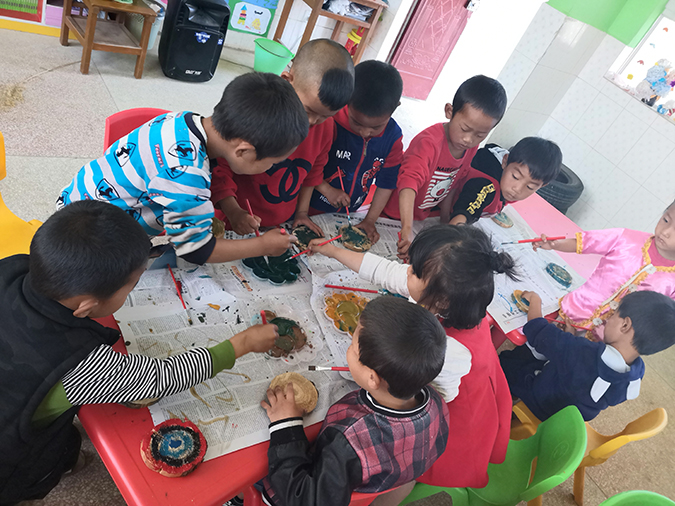 Time flied. It had been a while since Xiao Zhu came to the preschool. This was a craft class. I distributed the snowflakes to each child. Suddenly a naive voice shouted: "Teacher, look." I turned around and saw that Xiao Zhu was holding his assembled snowflakes. "Is it made by you?""Yes." "Xiao Xhu is so good and has made a pretty handwork. Next time you can surely do a better one. Go for it." I felt so happy when I saw his smiling face and sparkling eyes. Xiao Zhu's fear was melted due to teachers' care, students' companion and the environment full of laughter and love. The love like spring rain poured into Xiao Zhu's heart day by day and finally he opened his heart.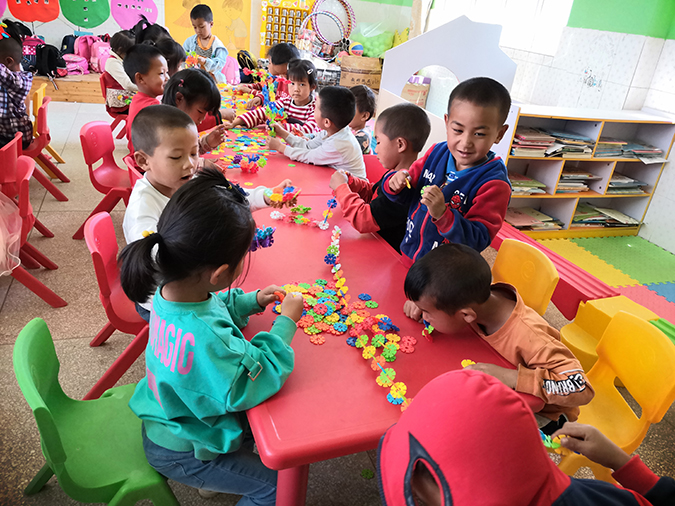 At the end of the semester, Xiao Zhu had got quite used to the preschool life. When he saw a child crying after stumbling, he would go to him and help him, although he might not be able to say words to comfort him. He learned to play games with other kids, and share stuffs with other kids. He gradually learned how to interact and help other students in this environment.

Yansi Preschool added a new class (class 3) to the previous two classes (class 1 and class 2) in September, 2018. The project provided equipment and facilities to the preschool, and strengthened professional trainings of teachers to help the children in mountain areas receive education and enjoy happy times similar as the children in urban areas. The newly added class could enable our children, especially left behind children, single parent children and children in poverty to early in life go to the preschool and receive professional guidance and education. Thanks to HPP, thanks to the other charity organizations such as Seasons in the Sun, and thanks to the staff who had planned the program. You brought hope and light to the children in poor and mountainous areas.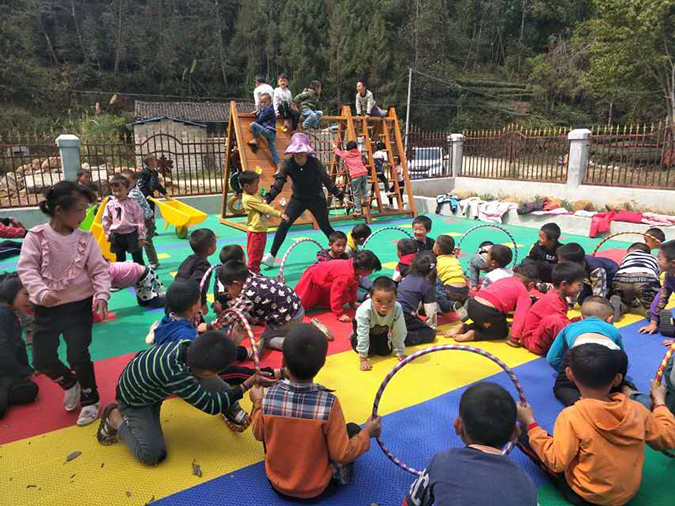 Project Introduction:
Yunnan Tengchong Seasons in the Sun Preschool is funded by Seasons in the Sun and Beijing Elite Habitat Development Foundation and co-implemented with Yunnan Youth Development Foundation. The overall funding is RMB 360,000 yuan. The project is implemented at Yansi Primary School, Tuantian Township, Tengchong City. It covers 113 3-6 year old children. The project activities include hardware improvement, renovation of three preschool classrooms, construction of one outdoor playground, equipment of toys and teaching tools for three classes, provision of trainings for 3 preschool teachers of 3 preschools, monitory and management of 3 preschool operation, and assisting teachers to provide trainings of parents of three preschools. The preschool also gets support and help from China Charity Aid Foundation for Children, which donated picture books and painting materials to the preschool in October, 2018.


The project was funded by Seasons in the Sun and Beijing Elite Habitat Development Foundation.
The article only represents the author's opinion, not necessarily the views of the donors.