The project "Tackling Childhood Malnutrition: Rural development for underserved Yi community in China" has started
At the beginning of 2019, Baxter International Foundation approved to donate another USD100,000 for a two year Liangshan Yi Children Health and Hygiene Project in Puge County, Liangshan Yi Autonomous Prefecture, Sichuan Province.
The project duration is January 1, 2019 to December 31, 2020. It will be implemented by HPP Sichuan Representative Office and covers 222 households of Luowu Village, Puge County, Liangshan Prefecture.
Project background:
Malnutrition is one of the major problems encountered by children in Liangshan prefecture. Due to poverty and mountain climate, there is not enough nutritious food in Liangshan prefecture. There are limited varieties of plants adapted to Liangshan's climate: mostly maize, buckwheat and potato. HPP conducted a health check of children of two preschools in An'le Township, Butuo County in 2017. It was found that over half of the children had delayed physical development. Children's nutrition status in the adjacent Puge County is similar. The Civil Affairs Ministry estimates that there are millions of impoverished and underserved children in China, mostly in Western rural areas. Studies indicated that in Liangshan Prefecture there are 10-20 impoverished and underserved children in average in each village - mostly orphans and left behind children. All of them live in poor families, with lack of effective guardianship and facing livelihod development and security dilemma.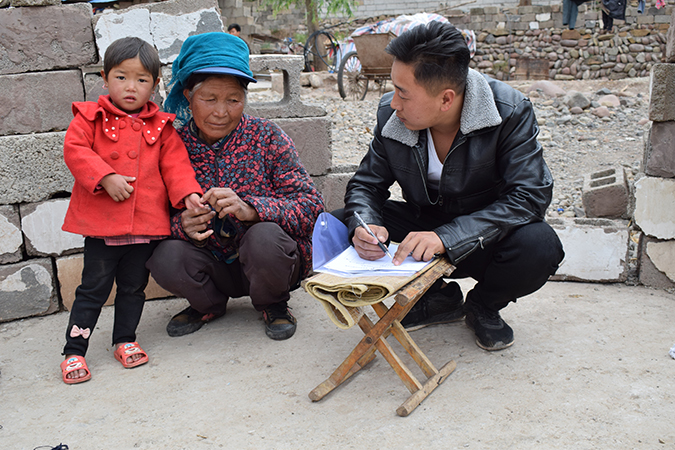 Visiting home and communicating with villagers face to face.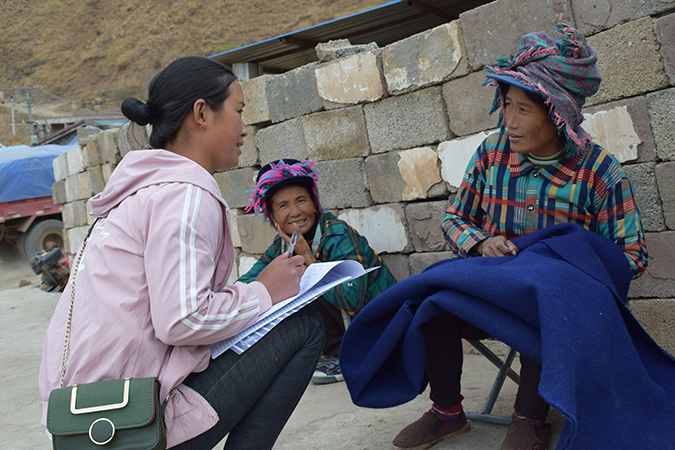 Questionnaire survey to understand practical local situations and needs

Project objective:
The project will be implemented in Puge County, Liangshan Prefecture. Puge County is one of the national poverty counties in China. It forms part of the poverty mountain areas of Liangshan prefecture. Yi people take up 83.7% of the overall population. The project aims to improve impoverished and underserved children's living conditions and bolster their confidence. In addition, we wish to improve other preschool aged children's nutrition and cultivate their good hygienic habits.
Project activities:
1.Establish 3 village level children's clubs: provide toys and books to each activity center; hold weekly and monthly activities for communicating and playing with children; conduct a theme activity every month such as protection of children's safety, and international children's day. The Project Coordinator conducts a home visit to children of poor families at least every quarter to understand their needs and mentality and provide guidance according to different situations.
2. Children's health check: Before and after the project implementation, 321 preschool children receive health check to provide evidence for guiding local health center to conduct children's health work; In addition, according to health check result, the project conducts corresponding intervention measures to improve children's health.
3.Educate 321 preschool children to form good hygiene habits: provide sanitary products to children and cooperate with children to urge children to brush teeth, wash face and hands everyday; provide a hygiene and health class each week to teach children hygiene and disease related knowledge.
4.Mobilize 222 households (parents of preschool children), and establish 3 Village Action Groups to plan new crops in order to help children have multiple nutrition intake and reduce children's anemia, and malnutrition. The project provides seeds/manure, technical support and/or purchases animals as subsidies. In addition, county and township level experts provide trainings and guidance to parents.
Project impact 1
Improve 45 impoverished and underserved children's living conditions, cultivate their good hygiene habits and help them to actively participate in project activities. The project will also actively seek social support to help improve children's life quality.
Expected outcomes
45 children's safety protection awareness is increased
45 children's living conditions are improved
45 children's guardian's knowledge and skills about children education and their concept of children education are improved.
Project impact 2
Improve community and school's awareness of health, nutrition and hygiene, and bring in new crops or animal species to improve 321 children's nutrition. Through the training, parents pay more attention to children's nutrition, and education of children. The school acquires good experience in terms of educating children to have good hygiene habits which could be used to their future teaching plan. The project also promoted new crops and animal species to preschool children's families to support them to provide multiple nutritious food to the children and other family members.
Expected outcomes
1.130 families participate in "Health Action Groups". After two years, villagers' awareness of participating in trainings is significantly increased.
2.Two years later, the occurrence of children's malnutrition is reduced.
3.130 families participate in planting new crops and raising new species of animals to enable children to have multiple nutrition intake.
Project impact 3
Improve local civil affairs bureau's quality of work in serving children; help township health center to establish better children's medical systems; help school to have a complete set of theoretical evidence and experience of educating children's hygiene habits. In the meanwhile, for a long run, the project could provide support for conveying knowledge about health, nutrition and hygiene to other villagers.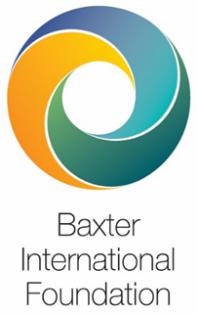 The project is funded by Baxter International Foundation.
The views expressed are those of the author and are not necessarily those of the donor.