Longling County-Societe Cenerale Starting Point Project Preschool held the unveiling ceremony on October 10, 2018. Two leaders of Ganzhai Community Committee, parents of the students and children of the preschool, Yang Chunbo (project leader of HUMANA PEOPLE TO PEOPLE) and Li Tao (working staff) of over 23 in total have attended the unveiling ceremony.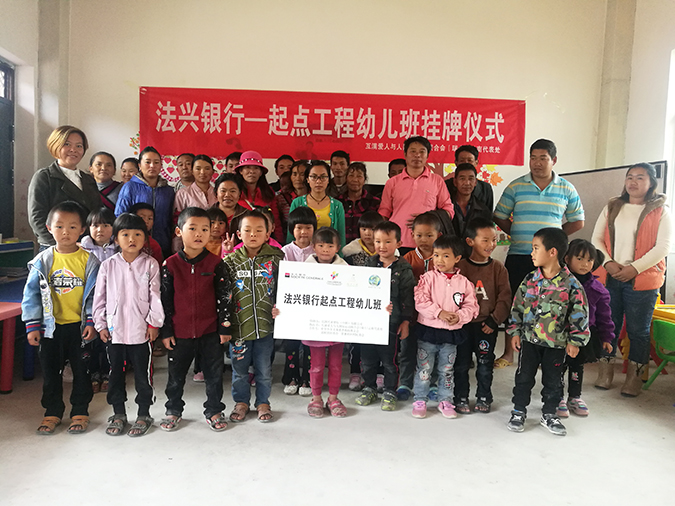 The unveiling ceremony was hosted by Yang Chunbo, the project leader of HUMANA PEOPLE TO PEOPLE. He welcomed and extended thanks to the leaders and guests for their arrival and introduced the donor of the preschool-Societe Generale for everyone. As one of the largest commercial bank groups in France, Societe Generale was established in May 1864 with its head office located in Paris. In 1981, Societe Generale opened its representative office in Beijing and expected the bright potential of China's economy. Societe Generale has opened 7 branches in Beijing, Guangzhou, Shanghai, Tianjin, Wuhan, Hangzhou and Harbin. Yang Chunbo has also introduced interrelation among the donor Societe Generale, China Charities Aid Foundation for Children and HUMANA PEOPLE TO PEOPLE and their roles and responsibilities in the project, displaying more detailed background information to everyone.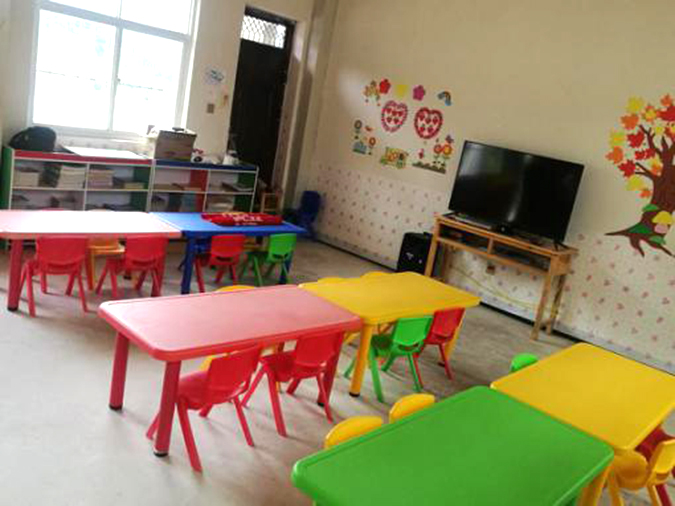 One corner of the preschool classroom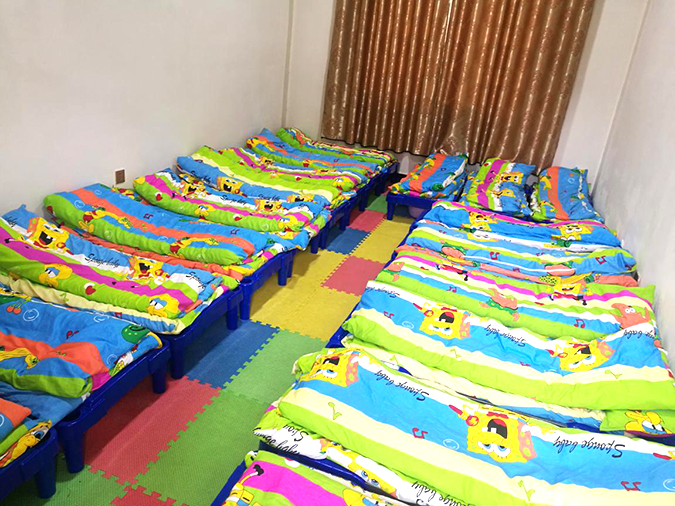 Afternoon-nap room of the preschool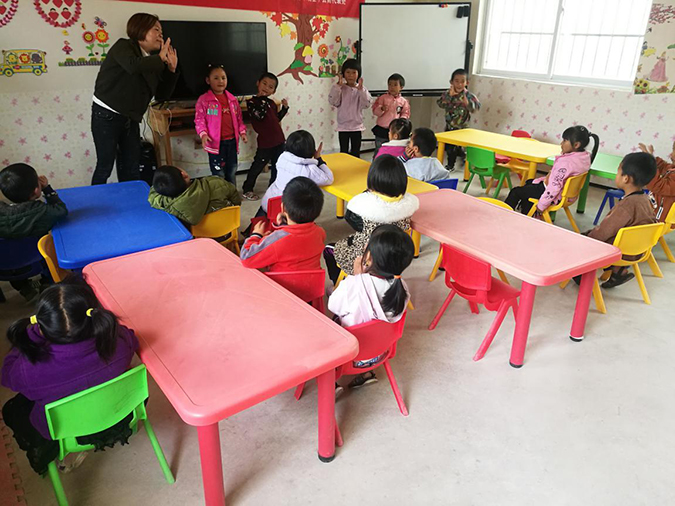 Teacher and children interacting with each other in class
On the ceremony, Yang Chunbo, the project leader, made an outlook for the future of preschool development with the intention to work hard for the cultivation of energetic, brave, confident, civilized and caring children. Mr. Li, secretary of village committee put forward three hopes for our preschool: the first point is that all the parents of Ganzhai village should pay attention to and care for the education of their children and support and cooperate with the job of the preschool; the second point is that village committee of Ganzhai village should keep on supporting the preschool as usual and regards development of high-quality preschool education and basic education for all the children in the village as the ultimate responsibility as well as attaches importance to, cares for and support preschool education with full efforts; the third point is that the teachers and support crew should focus on safety work, bear the responsibility for every child, operate a preschool meeting parents' standard and conscientiously make efforts for children.
Project introduction:
Longling County-Societe Cenerale Starting Point Project Preschool is funded by Societe Generale (China) Co., Ltd. and supported by Starting Point project group of China Charities Aid Foundation for Children. The objective of community preschool education project is to help needy children to get rid of poverty: opening preschool at a natural village in remote poverty-stricken area and using classrooms transformed from all kinds of rooms. The project has also recruited and trained local preschool teachers and established parent committee. Besides traditional courses, the children will also study knowledge in aspects of nature, nutrition and sanitary and how to express themselves through art and music. These children are usually 3-6 years old, and they will be able to fully prepare themselves for preliminary school by taking part in preschool education.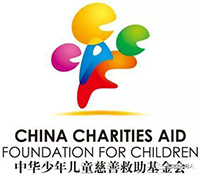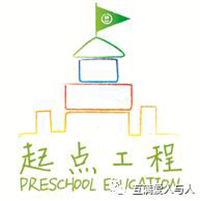 The project is funded by Societe Generale (China) Co., Ltd.
The views expressed are those of the author and are not necessarily those of the donor.