With the promotion of Education Foundation of Liangshan Yi Autonomous Prefecture, Li Jiancai and Luo Rujing, HPP consultants, implemented assessment investigation on preschool education need in Puge County along with representatives of the Education Foundation of Liangshan Yi Autonomous Prefecture at the middle of 2018. They met with Mr. Li, Director of Puge Education and Science Administration, after the investigation and concluded cooperation intention with respect to assistant management of "One Supervision Administration for One Township", teachers' competence improvement training, hardware facility supplement and technical support.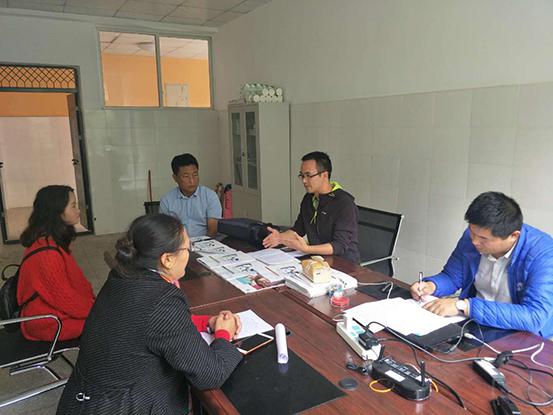 Vice Directors of Puge Education and Science Administration, Mr. Xiao and Mr. Ma, are implementing supervision at the kindergarten.
After intense negotiation, adjustment and approval by the two parties for several months, the two parties reached an agreement on cooperation contents, period, location, capital and their rights and obligations. In the meantime, HPP submitted the project activity and plan as per specifications to business supervision administration and Sichuan Provincial Public Security Department for registration and filing. Upon completion of all preparation work, HPP made an agreement with Education Foundation of Liangshan Yi Autonomous Prefecture and Puge Education Bureau of Liangshan Yi Autonomous Prefecture regarding project cooperation. With the approval and direction of Puge Education Bureau, the project will provide 5 project supports for the Central Kindergarten in Luowu Township of Puge County, mainly in teacher training, teaching aids and toys configuration, and curriculum setting.
Luowu Kindergarten was built in 2016, with a floor area of 2,000m2 and building area of 2,036m2, and it was put into use in March 2017. As of November 28, a total of 188 children have been admitted to the kindergarten and divided into 6 classes, in which 3 higher classes include 108 children, 2 middle classes include 55 children and 1 junior class includes 25 children. There are also 6 teachers, 1 cleaner, 1 guard and 2 project personnel in the kindergarten.
Playground designed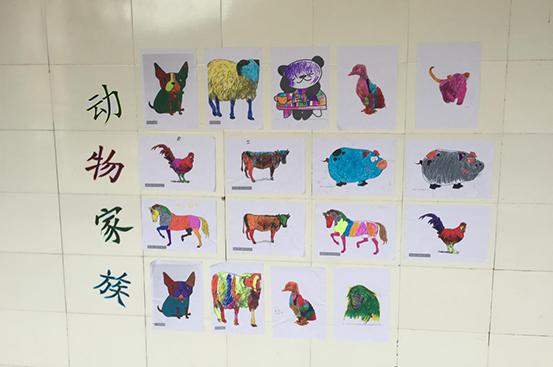 Outer wall designed
After the HPP Project was introduced into Luowu Kindergarten, the project personnel communicated actively and reached an agreement on cooperation and future work with Mr. Naigu, the Principal of Central Kindergarten. An office and staff dormitory have been set in the kindergarten for the project and recruitment for teachers and other personnel have been completed.
Key teachers teach children to dance every day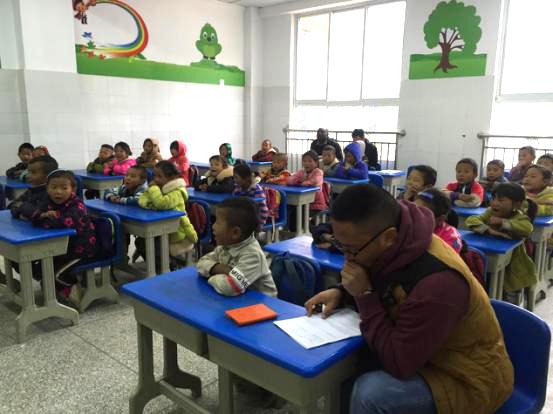 Kindergarten supervision and communication —— attending demonstration class
Main works conducted by the project team in the kindergarten:
1) Cleaning the entire kindergarten and repairing restrooms and sewers.
2) Organizing teachers to discuss and determine teacher management regulations and daily routine of the kindergarten.
3) Organizing studying and training of HPP teacher study materials and tools for teachers.
4) Key teachers organize and implement demonstration study activity, attend open classes by other teachers and give comments and feedback.
5) Helping the Central Kindergarten to monitor the teachers to conduct daily health care and education work.
6) Organizing teachers to implement creation and design for part of the environment.
7) Organizing teachers to hold weekly meetings to discuss problems of the kindergarten during operation.
About the Project:
Consultancy service for the HPP Luowu Kindergarten project is provided by HUMANA PEOPLE TO PEOPLE China (Switzerland) Sichuan Representative Office. The purpose is to help underprivileged children get rid of poverty, establish kindergartens in natural villages in remote poverty-stricken areas, supplement faculty for kindergartens and improve class size and education quality. HPP appointed kindergarten management team to comprehensively improve the kindergarten management level, education and teaching level, faculty, living standard of children in the kindergartens and teaching environment so as to build the kindergarten into a "One Supervision Administration for One Township" demonstration kindergarten of Puge County through endeavor for two years and provide a teacher training and learning base for organizations and local government.
The views expressed are those of the author.