March 3, 2017, Guangxi Xincheng Public Welfare Poverty Alleviation project was officially launched in Beijing, with the theme "Re-invent Zhuang Ethnic Villages and Promote Beautiful Countryside". The project is to be carried out jointly by The Public Service Volunteer Association of Xincheng County, China Social Assistance Foundation, Nantong Sanjian Charity and Public Welfare Foundation, the Communist Youth League Committee of Guangxi Laibin City and Humana People to People(HPP) Kunming Service Center. The project will be implemented in Liudie Village and Mati Village, Hongdu Township, Xincheng County, Laibin city of Guangxi Zhuang Autonomous Region .


As a precision poverty alleviation project, this public welfare project will be implemented mainly by HPP which will provide technical support and professional services to help The Public Service Volunteer Association of Xincheng County, The First Secretary of the Poverty Alleviation Office, Guangxi Provincial Department of Education, and the Local Government to set up a group of Farmer's Club in the project villages. These Farmer's Clubs will develop local agriculture by combining local resources, industrial characteristics and local conditions, striving to solve the difficulties and problems in rural poverty alleviation and establish a villagers' self-development model. This project will also explore ways for government to purchase professional services of precision poverty alleviation from NGO.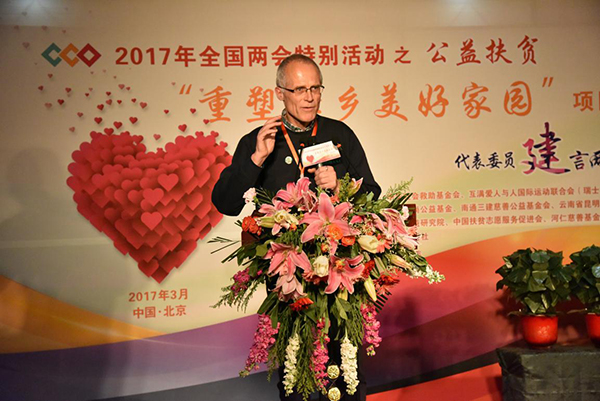 HPP China Country Representative Michael Herman is making project introduction at the meeting.

The project will be carried out for 25 months. According to the plan, HPP project team will provide agricultural technical training to farmers according to the baseline assessment demand, improve their basic knowledge on crop-cultivation and livestock breeding; improve farmers' income through large-scale industrial development; improve the health status of farmers and their families by providing health trainings; help farmers to get clean drinking water by installing water filter & purification devices. The project will help the villagers to get rid of poverty, improve local living standards, production and living conditions, and to develop local farmers' self-capacity building awareness and ability.

Zhang Fubin, Chairman of Nantong Sanjian Charity and Public Welfare Foundation; Li Xinrong, Secretary-General of China Mingshang Public Welfare Foundation and NPC member, Wang Zhenyao, Director of Chinese Public Welfare Research Institute; Wei Chenzhu, City official from Laibin Municipal Government, and HPP China Country Representative Michael Herman made important speeches at the meeting, and answered the reporters' questions about the project.

After listening to the project introduction and implementation plan, many participants, such as the CPPCC National Committee members and the NPC members, who are concerned about public welfare and poverty alleviation, expressed their appreciation of the project, the new ideas and new directions on poverty alleviation it may bring in.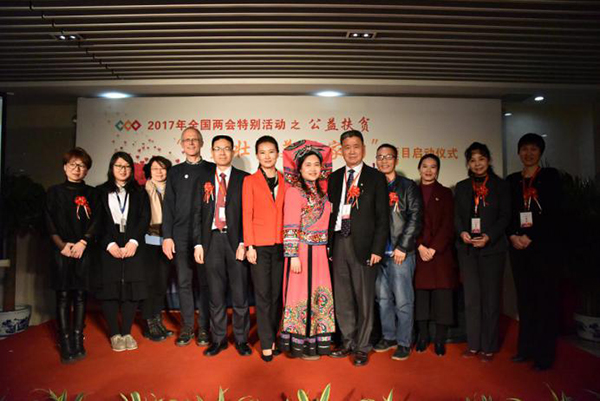 Participants at the meeting took a photo together.