In spite of late autumn, it was still sunny and warm like spring in Xichang. At this moment, in Butuo, winter is coming quietly. It snowed on the mountain last week. Now Butuo had her another new group of visitors which were composed of 12 Atlas Copco (hereinafter referred to as AC) staff representatives. They came here to investigate the progress of "Water For All" project this year as well as pay a return visit to last year's project. It was the second time that AC organized its staff to go yo Butuo for investigation. However, almost all staff came to Butuo located in Daliang Mountains for the first time except Roy, the leader. They mentioned they were lucky staff selected from Atlas Copco branches all over China, such as Shanghai, Wuxi, Nanjing, Qingdao, Guyang and Tianjin branch. It was destiny that tied them together here. We also appreciated the other 4, 000 AC friends who joined the lucky draw but were not selected.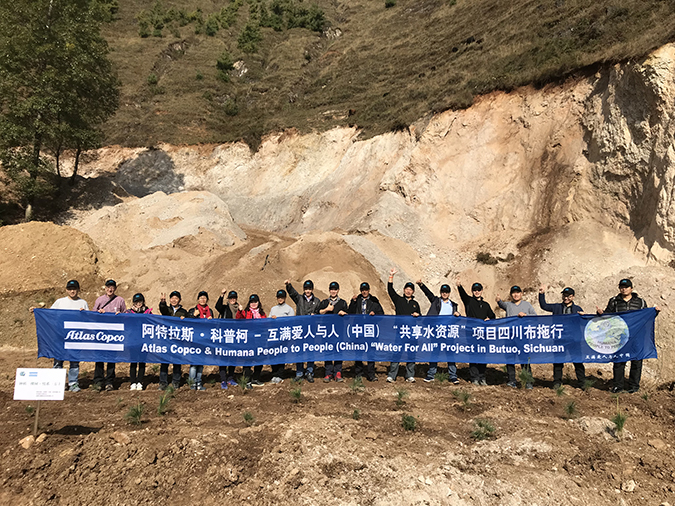 The investigation totally lasted four days. For bad road conditions to Butuo, AC group spent only two days on project investigation and another two days on travel.
Going to Gaguo village and Heimenzi village to investigate this year's project was AC group's key task on the first day in Butuo. In the early morning, all group members gathered at the hotel door and went to Gaguo Village to investigate impounding reservoir, the major part of the investigation. There was a special friend in the car. He was four years old and the leader's son. The child who lives in Shanghai, the big city, seldom has chances to see pigs and crowds of ships and cows walking here and there on the raod, as well as chickens crossing the street. Furthermore, he has little chance to see children who are the same age as him carrying babies in their backs and children who are barefoot or wear sandals in cold winter. It shall be a good way to educate children by taking them to see and experience different culture and lifestyles.
After arriving at the newly built impounding reservoir, AC staff firstly checked its condition and held a short handover ceremony. The village committee, the Women's Federation, the Water Conservancy Bureau, AC and representatives of Humana People to People were invited to make speeches respectively. Compared with the impounding reservoir built last year, the one built this year is greatly improved. Not only were sedimentation tank and disinfection tank built, but also a door and a ladder reaching the bottom of the tank were installed for the convenience of cleaning. What's more, AC staff planted a stretch of pine tree seedlings, wishing them would grow sturdily and protect this area.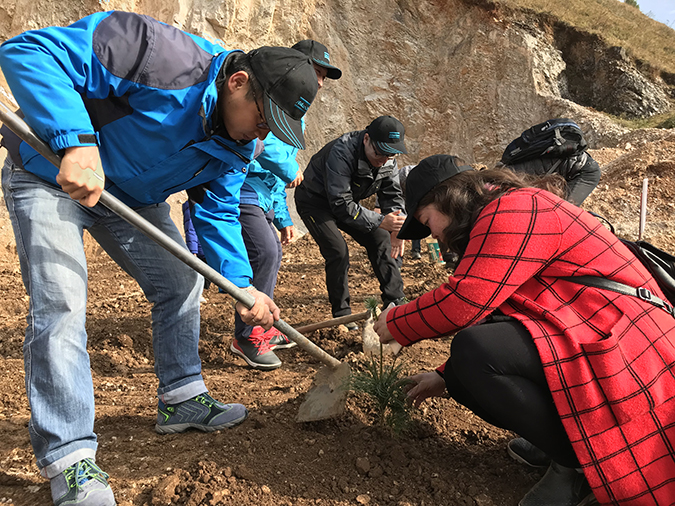 AC staff are planting seedlings nearby the impounding reservoir.

Then they visit local villagers to collect information about their water use condition, growth of layer chickens and vegetables and family hygiene condition. In the afternoon, they visited Heimenzi Village to check the waste storage tank and public areas, visit villagers, interact with children at Shizui Primary School and teach them knowledge about clean drinking water. Furthermore, to increase villagers' food diversity and improve children's nutrition, the project founded a village nutrition cooking training room in the village. A villager cooking training lesson was arranged today, and AC staff also took part in it. During the training, several young girls were encouraged and invited to learn cooking. Then the investigation group ended their first day investigation.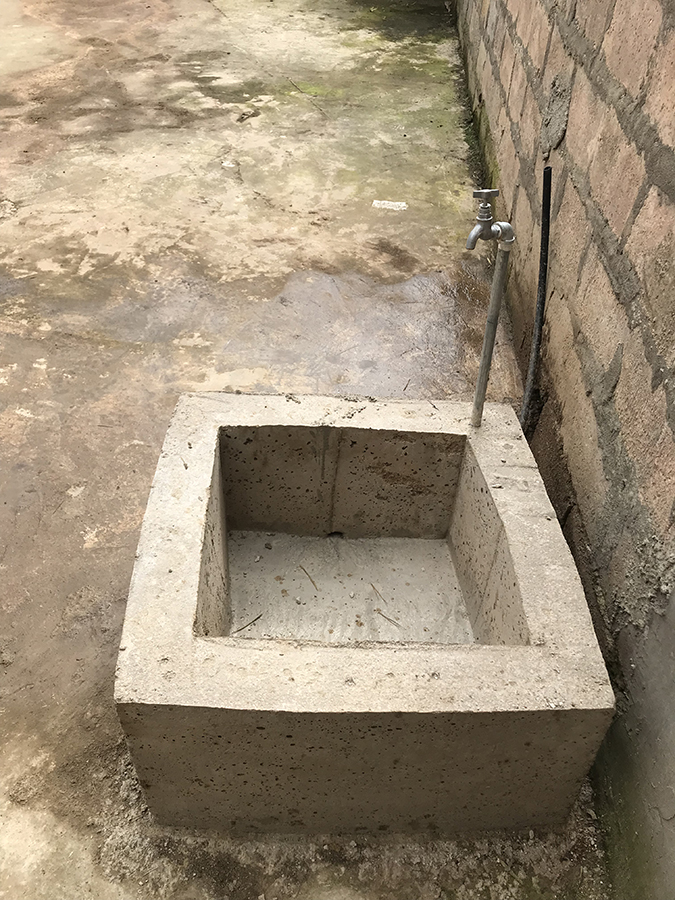 Water in the impounding reservoir flows to all villagers' home. Small ponds are also built, and thus villagers may wash their clothes at home.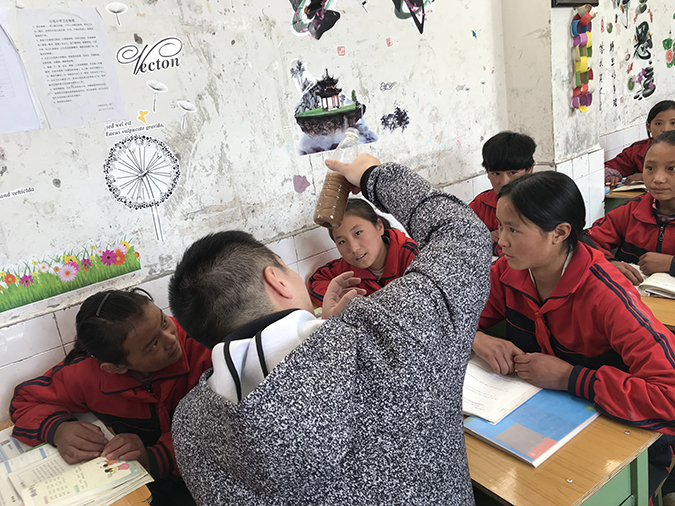 AC staff and children are observing water condition.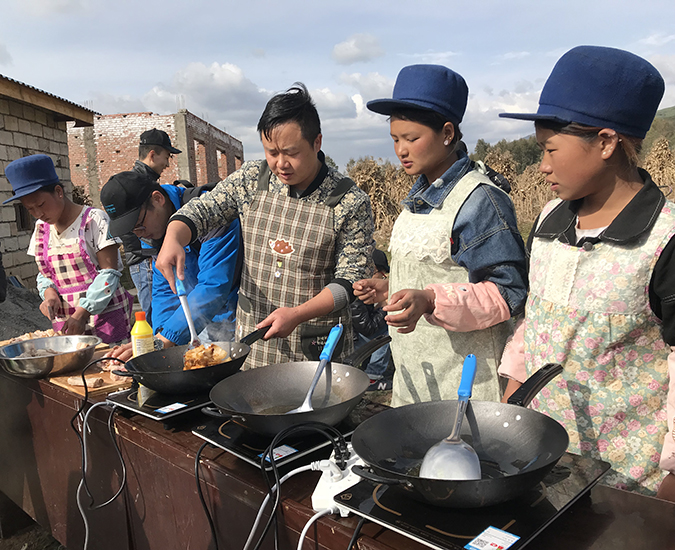 Villagers are learning cooking.
On the second day, AC staff mainly checked toilet use of Bori Village, water tank, villagers' family hygiene, wash basins in Eqing Primary School and the use of public bathroom. They also sent children gifts including school supplies and cups. Water tanks can't be used temporarily due to the construction of wind power generation equipment. Villagers have got used to use toilet. Their family hygiene was also in good condition. Water heater was installed on the wash basins in the school. The bathroom was also in normal operation.
The bathroom and wash basins are in good condition.
AC staff summarized the investigation in the conference room of the Women's Federation. Everyone expressed their opinions. They witnessed the project had brought positive changes to villagers, and also made many suggestions which would be implemented in the following work around the project. We hope more people may come to Daliang Mountains and Butuo.
PS: For two years cooperation until now, the project has helped 326 families from three villages and 306 faculty members and students get clean drinking water, improved their nutrition and healthy condition.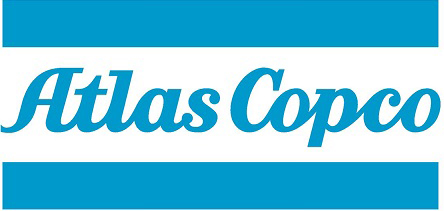 This project is funded by Atlas Copco (China) Investment Co., Ltd.
Content in this article reflects only the views of the authors and not those of the funder.